Lady Gaga și Ariana Grande la Premiile MTV Video Music din 2020. Gala, care nu a mai avut loc în obișnuitul Barclays Center, a arătat puțin diferit de cele obișnuite. Artiștii au urcat pe scenă în diferite locații, fără audiență.
Ediţia din acest an a avut şi două categorii noi: cel mai bun videoclip muzical realizat de acasă şi cea mai bună interpretare în carantină.
Cu toate acestea, Lady Gaga a reușit să facă spectacol. S-a folosit de măști! În timpul aparițiilor sale multiple din timpul spectacolului, cântăreața a afișat o colecție impresionantă de măști, demne de o artistă ca Lady Gaga, femeia care a transformat carnea crudă într-o declarație de modă.
Masca "artistului anului"
"Everyone always knew if they were hanging out with me that I was on a mission to spread joy through culture, through dance, through music." Congrats to @LadyGaga 💗 #GirlPower @SeeHer2020 #SeeHerHearHer #VMAs pic.twitter.com/RV6CI1n2MF

— MTV (@MTV) August 31, 2020
Lady Gaga trebuie să fi avut o afecțiune deosebită pentru aceasta, întrucât a purtat-o ​​de două ori în gala de duminică – o dată când a acceptat premiul "artistul anului" și din nou ca să-și accepte premiul TRICON.
Masca "cea mai bună colaborare"
Masca purtată în timpul interpretării piesei "Rain On Me"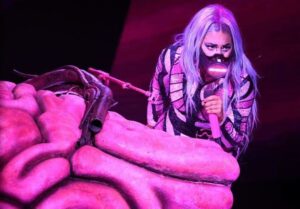 Pentru duetul ei electrifiant cu Ariana Grande, Gaga a purtat o mască cu o margine electronică care părea să răspundă la notele pe care le cânta. Poate că a fost modul ei de a demonstra că ea cântă live.
Masca "melodia anului"
În cele din urmă, Lady Gaga a purtat o mască cu coarne. Cu noii ei colți, vedeta amintește întotdeauna că VMA-urile sunt despre distracție și individualitate.
Câștigătorii Galei
VIDEO OF THE YEAR
The Weeknd – "Blinding Lights" (CÂŞTIGĂTOR)
Billie Eilish – "everything i wanted"
Eminem ft. Juice WRLD – "Godzilla"
Future ft. Drake – "Life Is Good"
Lady Gaga with Ariana Grande – "Rain On Me"
Taylor Swift – "The Man"
PUSH BEST NEW ARTIST
Doja Cat (CÂŞTIGĂTOR)
Jack Harlow
Lewis Capaldi
Roddy Ricch
Tate McRae
YUNGBLUD
BEST HIP-HOP
Megan Thee Stallion – "Savage" (CÂŞTIGĂTOR)
DaBaby – "BOP"
Eminem ft. Juice WRLD – "Godzilla"
Future ft. Drake – "Life Is Good"
Roddy Ricch – "The Box"
Travis Scott – "HIGHEST IN THE ROOM"
VIDEO FOR GOOD
H.E.R. – "I Can't Breathe" (CÂŞTIGĂTOR)
Anderson .Paak – "Lockdown"
Billie Eilish – "all the good girls go to hell"
Demi Lovato – "I Love Me"
Lil Baby – "The Bigger Picture"
Taylor Swift – "The Man" – Republic Records
ARTIST OF THE YEAR
Lady Gaga (CÂŞTIGĂTOR)
DaBaby
Justin Bieber
Megan Thee Stallion
Post Malone
The Weeknd
BEST R&B
The Weeknd – "Blinding Lights" (CÂŞTIGĂTOR)
Alicia Keys – "Underdog"
Chloe x Halle – "Do It"
H.E.R. ft. YG – "Slide"
Khalid ft. Summer Walker – "Eleven"
Lizzo – "Cuz I Love You"
BEST POP
BTS – "On" (CÂŞTIGĂTOR)
Halsey – "You should be sad"
Jonas Brothers – "What a Man Gotta Do"
Justin Bieber ft. Quavo – "Intentions"
Lady Gaga with Ariana Grande – "Rain On Me"
Taylor Swift – "Lover"
BEST MUSIC VIDEO FROM HOME
Ariana Grande & Justin Bieber – "Stuck with U" (CÂŞTIGĂTOR)
5 Seconds of Summer – "Wildflower"
blink-182 – "Happy Days"
Drake – "Toosie Slide"
John Legend – "Bigger Love"
twenty one pilots – "Level of Concern"
SONG OF THE YEAR
Lady Gaga with Ariana Grande – "Rain On Me" (CÂŞTIGĂTOR)
Billie Eilish – "everything i wanted"
Doja Cat – "Say So"
Megan Thee Stallion – "Savage"
Post Malone – "Circles"
BEST LATIN
Maluma ft. J Balvin – "Qué Pena" (CÂŞTIGĂTOR)
Anuel AA ft. Daddy Yankee, Ozuna, Karol G & J Balvin – "China"
Bad Bunny – "Yo Perreo Sola"
Black Eyed Peas ft. Ozuna & J. Rey Soul – "MAMACITA"
J Balvin – "Amarillo"
Karol G ft. Nicki Minaj – "Tusa"
BEST DIRECTION
Taylor Swift – "The Man" (CÂŞTIGĂTOR)
Billie Eilish – "xanny"
Doja Cat – "Say So"
Dua Lipa – "Don't Start Now"
Harry Styles – "Adore You"
The Weeknd – "Blinding Lights"
BEST COLLABORATION
Lady Gaga with Ariana Grande – "Rain On Me" (CÂŞTIGĂTOR)
Ariana Grande & Justin Bieber – "Stuck with U"
Black Eyed Peas ft. J Balvin – "RITMO (Bad Boys For Life)"
Ed Sheeran ft. Khalid – "Beautiful People"
Future ft. Drake – "Life Is Good"
Karol G ft. Nicki Minaj – "Tusa"
BEST K-POP
BTS – "On" (CÂŞTIGĂTOR)
(G)I-DLE – "Oh My God"
EXO – "Obsession"
Monsta X – "SOMEONE'S SOMEONE"
Tomorrow X Together – "9 and Three Quarters (Run Away)"
Red Velvet – "Psycho" – SM Entertainment
BEST GROUP
BTS (CÂŞTIGĂTOR)
5 Seconds of Summer
The 1975
BLACKPINK
Chloe x Halle
CNCO
Little Mix
MONSTA X
Now United
twenty one pilots
BEST ALTERNATIVE
Machine Gun Kelly – "Bloody Valentine" (CÂŞTIGĂTOR)
The 1975 – "If You're Too Shy (Let Me Know)"
All Time Low – "Some Kind Of Disaster"
FINNEAS – "Let's Fall in Love for the Night"
Lana Del Rey – "Doin' Time
twenty one pilots – "Level of Concern"
BEST ROCK
Coldplay – "Orphans" (CÂŞTIGĂTOR)
blink-182 – "Happy Days"
Evanescence – "Wasted On You"
Fall Out Boy ft. Wyclef Jean – "Dear Future Self (Hands Up)"
Green Day – "Oh Yeah!"
The Killers – "Caution"
BEST QUARANTINE PERFORMANCE
CNCO – Unplugged At Home (CÂŞTIGĂTOR)
Chloe & Halle – "Do It" from MTV's Prom-athon
DJ D-Nice – Club MTV presents #DanceTogether
John Legend – #togetherathome Concert Series
Lady Gaga – "Smile" from One World: Together At Home
Post Malone – Nirvana Tribute
BEST CINEMATOGRAPHY
Lady Gaga with Ariana Grande – "Rain On Me" (CÂŞTIGĂTOR)
5 Seconds of Summer – "Old Me"
Camila Cabello ft. DaBaby – "My Oh My"
Billie Eilish – "all the good girls go to hell"
Katy Perry – "Harleys In Hawaii"
The Weeknd – "Blinding Lights"
BEST ART DIRECTION
Miley Cyrus – "Mother's Daughter" (CÂŞTIGĂTOR)
A$AP Rocky – "Babushka Boi"
Dua Lipa – "Physical"
Harry Styles – "Adore You"
Selena Gomez – "Boyfriend"
Taylor Swift – "Lover"
BEST VISUAL EFFECTS
Dua Lipa – "Physical" (CÂŞTIGĂTOR)
Billie Eilish – "all the good girls go to hell"
Demi Lovato – "I Love Me"
Harry Styles – "Adore You"
Lady Gaga with Ariana Grande – "Rain On Me"
Travis Scott – "HIGHEST IN THE ROOM"
BEST CHOREOGRAPHY
BTS – "On" (CÂŞTIGĂTOR)
CNCO & Natti Natasha – "Honey Boo"
DaBaby – "BOP"
Dua Lipa – "Physical"
Lady Gaga with Ariana Grande – "Rain On Me"
Normani – "Motivation"
BEST EDITING
Miley Cyrus – "Mother's Daughter" (CÂŞTIGĂTOR)
Halsey – "Graveyard"
James Blake – "Can't Believe the Way We Flow"
Lizzo – "Good As Hell"
ROSALÍA – "A Palé"
The Weeknd – "Blinding Lights"
SONG OF THE SUMMER
BLACKPINK "How You Like That" (CÂŞTIGĂTOR)
Cardi B ft. Megan Thee Stallion – "WAP"
DaBaby ft. Roddy Ricch "Rockstar"
DJ Khaled ft. Drake "Popstar"
Doja Cat – "Say So"
Dua Lipa – "Break My Heart"
Harry Styles –"Watermelon Sugar"
Jack Harlow – "Whats Poppin"
Lil Baby ft. 42 Dugg – "We Paid"
Megan Thee Stallion ft. Beyoncé – "Savage (Remix)"
Miley Cyrus – "Midnight Sky"
Pop Smoke ft. 50 Cent & Roddy Ricch – "The Woo"
SAINt JHN – "Roses"
Saweetie – "Tap In"
Taylor Swift – "cardigan"
The Weeknd – "Blinding Lights"